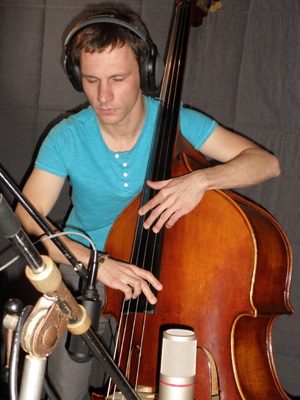 Austria, Graz
Bass and double-bass player, composer. Experienced flexible musician with sense of ensemble. He had an experience of playing with the best musicians of Ukraine and other countries while being a student of the Kiev University named after Gli?re and composed his own pieces of music. Since 2004 he has been a student of professor Wane Darling of the University of Music and Drama in Graz (Austria) as a double-bass player. He is also a member of "Piotr Pawlak Jazztet" group, and travelled over almost whole Europe as its member.
Participation in festivals, contests:
"Millau en Jazz» and «Jazz a Vienne» (France) – in 2004 with Krivoy Rog Big-Band.
The third prize for the best composition in Do#Dj-competition, 2009.
As a member of "Piotr Pawlak Jazztet": The prize in the best group nomination on the 48th contest "Jazz Festival Nad Odra", April 2012. The second prize at the final stage of international jazz contest "Getxo Jazz" in Spain (4th-8th April). Took part in the final stage of European contest Jazz 2012 in Rome (Italy).
Albums:
2010 – debut album "Recovery" (UKR music) author compositions only.
2011 – debut concert album of "Piotr Pawlak Jazztet" called "Wist Werk" (compilation of two concerts in Graz Feb and Mar 2011).
Ilya Alabuzhev (double-bass, Austria)
"Ilya travelled over almost whole Europe as a member of Austrian "Piotr Pawlak Jazztet" group."