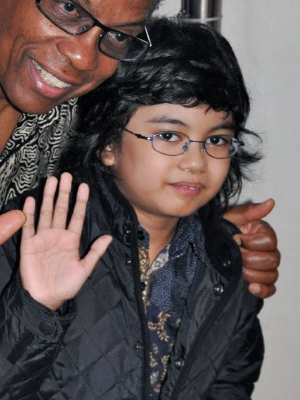 Indonesia, Jakarta
Joey Alexander is considered to be a Jazz Prodigy in Indonesia.
When he was 6 years old, his parents brought home a mini keyboard and to their astonishment Joey could play a melody line of 'Well you needn't' (a Jazz piece written by Thelonious Monk).
"He started piano lessons at the age of 6. But his real enjoyment is sitting in for jam sessions." – says his father.
In December, 2011 Joey was invited by UNESCO to play solo piano in front of Jazz Icon Herbie Hancock during his visit to Indonesia as United Nations Ambassador.
Now at the age of 9, Joey has performed and collaborated with top Jazz musicians in Indonesia among others Indra Lesmana (Pianist/Composer), Benny Likumahua (Legendary Jazz musician/ Trombonist), Idang Rasjidi (Jazz Pianist), Oele Patisellano (Legendary Guitarist), Indro Hardjodikoro (Bass player), Barry Likumahua (Bass player) and also with some visiting Jazz musicians from Europe.
He has performed in Java International Jazz Festival, Jakarta International Jazz Festival, Jazz Goes To Campus, World Youth Jazz Festival in KL, Indonesia Music House Lokananta- Indosiar TV and @america music
In 2013 Joey Alexander is again scheduled to perform in several international festivals besides Master-Jam Fest.
Joey Alexander (piano, Indonesia)
Joey Alexander is considered a prodigy in Indonesia.