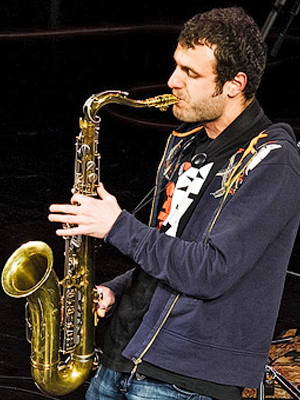 Lithuania, Vilnius
The saxophonist Juozas Kuraitis received Master Degree from the Lithuanian Academy of Music and Theatre (2008). Juozas was studying at Sibelius Academy in Helsinki. He was a prize winner in J. Pakalnis Young Performers' Competition (1999) and jazz competitions in Nida (2004), "Jazz Hope" (2005) and "Vilnius Jazz Young Power" (2006, 2007). Now he is a jury member of Vilnius Jazz Young Power Competition. Juozas Kuraitis is very versatile player, can play mainstream jazz, free jazz, latin, contemporary, pop and other music.
Kuraitis has collaborated with Lithuanian Greatest jazzmen, was a member of one of the most popular pop group in Lithuania "In Culto", appeared with Klaip?da Chamber Orchestra and its Quartet, and many other groups and projects.
As a member of various formations Kuraitis took part in almost all jazz festivals in Lithuania, contemporary music festival "Gaida", and the Great Parade of Musicians, and many other festivals in Lithuania and abroad.
Juozas Kuraitis (saxophone, Lithuania)