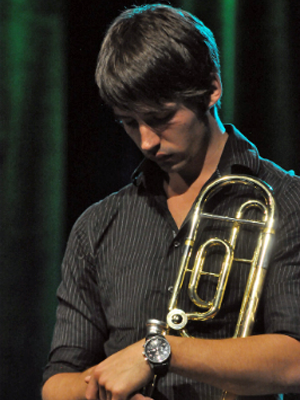 Sweden/Austria, Esthammar/Graz
Tenor and Bass Trombone
Born in 1988 in Sweden.
Started to play trombone at the age of nine in Esthammar, Sweden.
Studied at the S?dra Latin High School of Music in Stockholm from 2004 till 2007.
Between 2007 and 2009 he studied trombone and composition at the Prague Conservatory of Jazz with
prof. Svatopluk Kosvanec and prof. Afrodita Katmeridu.
Since Oct. 2009 he is a student of Prof. Ed Neumeister at the Jazz Department – University of Music and
Dramatic Arts in Graz, Austria.
Winner of "The Best Solo" Award at Litvinov International JazzFest in Spring 2009. The same
year named "Best Soloist" at "Jazz Juniors" competition in Prague with Karel Ruzicka and Robert
Balzar in the Jury. In 2012 he was honored with the "Outstanding Soloist Award" at the V European Jazz
Competition in Rome, Italy.
Performed on Croatian television in December 2011 with Mike Abene and June 2012 with John
Fedchock together with the HGM Jazz Orchestra Zagreb and at Bohemia Jazzfestival in Ceske
Budeovice (Czech Republic) with "Emperor Penguin" in July 2010.
He is also a member of Rob Spelberg Jazz Orchestra, Graz Composers Orchestra and Piotr Pawlak
Jazztet.
Attended workshops with Bob Mintzer, Miguel Zenon, Dave Taylor, Jim McNeely, Fred Hersch,
John Hollenbeck and many more between the years 2009-2012.