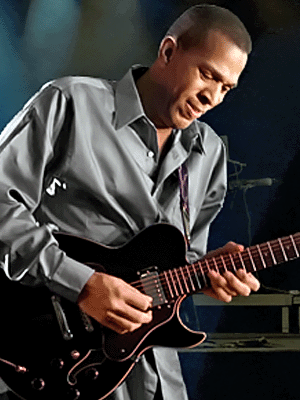 The USA, Fairfax
Melvin Taylor is one of the guitarists recognized as the greatest in the history of rock, blues and jazz music.
Melvin performed in front of thousands fans all over the world. The admirers of his music in Argentina, Canada, China, Chile, France, Germany, Great Britain, The Netherlands, Norway, Poland, Turkey, Ukraine, and, certainly, the USA always enjoyed his virtuosic guitar-playing style and breathtaking solos.
Melvin's unique sound and excellent performing skills continue thrilling and delighting listeners all over the world.
Melvin confides with "Master-Jam": "Early in my career, 1983 – 2000 I recorded 6 CD's for Evidence Records – Blues & Jazz.
I have toured in Europe, South America, Canada and parts of the USA opening for some well-known performers.
The past 2 years my creative focus has been on composing, producing and recording my own music. I released a double jazz CD, Beyond the Burning Guitar in 2010, Sweet Taste of Guitar in 2011, and recently completed a new CD to be released in early 2013.
In addition to composing and performing, I have a natural aptitude for electronics – I build and modify guitars, amplifiers, pedals, and tuners; I must say I have come up with some unique gadgets that I hope to market one day."
http://www.melvintaylormusic.com
http://www.facebook.com/melvintaylormusic