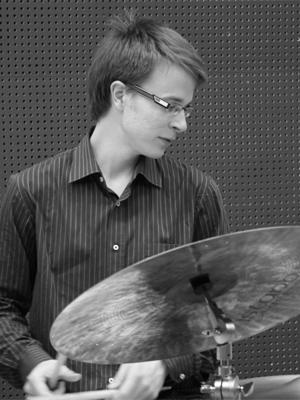 Poland/USA, New York
Piotr Pawlak aka Pete Black
Born in Poland.
2008 – Bachelor of Arts – Classic Percussion at the Academy of Music in Poznan / Poland. Percussion teachers: prof. Edward Iwicki and prof. Jacek Wota. Drum teacher: dr. Krzysztof Przybylowicz.
2012 – Bachelor of Arts – Jazz Drums at the University of Music in Graz / Austria. Student of prof. T. Howard Curtis III (Drums) and prof. Edward Partyka (Composition and Arrangement).
From 28.01.2013 (Spring Semester) – master study at CUNY Queens College in New York, NY / USA, with prof. Gene Jackson.
Between 2007 – 2008 employed as percussion soloist in the Orchestra Ensemble of Music Theatre in Poznan / Poland.
Since December - 2009 founder, manager, producer and band leader of Piotr Pawlak Jazztet. Also member of Polish-German Youth Jazz Orchestra and KUG Jazz Orchestra.
Workshops with: John Hollenbeck (USA), Adam Nussbaum (USA), Bill Stweard (USA), Jimmy Cobb (USA), Billy Hart (USA), Roberto Quintero (VZ), followed by classes with Jim McNeely (USA), Dick Oatts (USA), Bob Brookmeyer (USA), Antonio J. Garc?a (USA) and more.
Interested in computers/programming languages, home cooking, Alexander Technique.