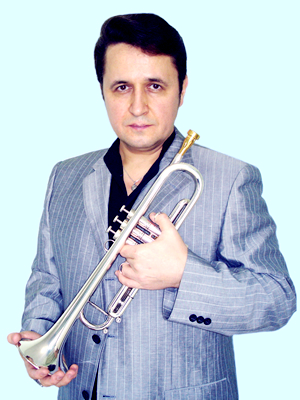 Thailand, Bangkok
Rustem Galiullin – jazz trumpet player, composer and arranger, was born in Russia, where he got a Master's degree in Classical music. After getting vast experience from work in symphony orchestras and teaching, he wholeheartedly committed himself to jazz. As a soloist in the famous jazz ensemble "ORLAN", he performed at many jazz festivals in Russia and Europe (in Moscow, Riga, Tbilisi, Novosibirsk, Kazan, Warsaw, Krakow, Helsinki, Montreux, and others).
For most part of his musical career, Rustem has been living and working in South-East Asia, currently in Bangkok, Thailand. He actively participates in Asian region's many jazz events (Hong Kong, Singapore, China, Malaysia, Indonesia), also working as a soloist, sideman and arranger at recording studios. The sound of his solo trumpet can be heard on radio and TV-shows, as well as honorable concerts for the Royal Family.
Rustem has participated in a series of concerts with jazz stars, as a soloist in guitarist Bruce Forman's quintet, drummer Bobby Durham's quartet, Fran?ois Lindemann's quintet, as well as performing in joint concerts with Maynard Ferguson, Poncho Sanchez, Buddy Childers, Al Grey. He has also played along-side with Sean Jones, James Carter, Michael Rodriguez, Rex Richardson, Sal Cracchiolo, John Thomas. The International Trumpet Guild Conference hosted in Bangkok gladly welcomed Rustem's active participation as a host of a jam session, a soloist of the closing "Festival Of Trumpets" concert, as well as a judge at the final of "Jazz Improvisation Competition".
In addition to performing, Rustem teaches in schools and at a university in Bangkok. Currently, he is working on releasing a new album from the jazz ensemble "ORLAN", where Rustem Galiullin is a soloist and a composer.