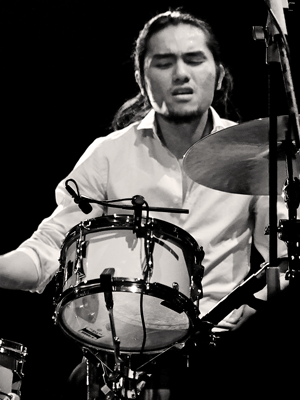 Indonesia, Jakarta
Sandy Winarta is Indonesian jazz drummer, who developed good musical ears by playing piano from early childhood. He can hear a melody line or harmony once and then just play it. It gives him an ability to feel the dynamics of musical pieces and to catch the beats immediately, playing drums.
He finished the Australian Institute of Music in Sydney, worked as a drummer for many TV shows such as the Indonesian Idol and Asian show, etc for 3 years. He's been involved in numerous recording sessions and live performances with many different artists and musicians in different musical genres. He also performed in Canada, China, Australia, Malaysia, Vietnam with different artists and orchestras.
He also performed at International jazz festivals, such as Quebec Music festival (Canada), Java Jazz fest, Jakjazz fest (Indonesia), Mosaic Jazz festival in Singapore, Kuala Lumpur International Jazz festival, Ambon Jazz festival. Coolaborated with suchInternational musicians as Sadao Watanabe, Steve Thornton , Roger Burns, Andy Suzuki. His own musical ensembles: Balawan trio, quartet Sarimanouk that plays original compositions with a lot of hardbop influences, his iwn triocalled Karma, wich plays traditional Indonesian music, mostly traditional Balinese music with jazz attitude and instruments, trio with Indra Lesmana and Barry Likumahuwa, big band called Pitoelas big band, Sandy Winarta quartet.
Sandy several times performed in Blue Note Tokyo, together with Maurice Brown, with the legendary Charlie Haden Liberation Orchestra conducted by Alan, and also with Everette Harp, Oran Etkin (Grammy award winner).
Sandy Winarta (drums, Indonesia)