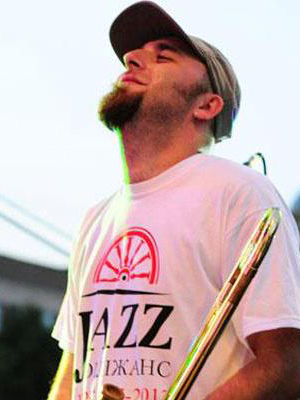 Ukraine, Donetsk
Stas Grenader is a trombonist, composer, performer, session musician.
He was born in the settlement Aktau, Kazakhstan, on the 15th of April in 1982. In two years his family left into the city Smela, Ukraine.
Education: He finished the Cherkassy musical college named after S. Prokofiev and got a diploma at the trombone musical department.
Since 2001 he starts his professional musical activity, touring all the biggest jazz festivals of the country with the Krasheninnikov jazz quintet. In the 2002 he won the special diploma at the International jazz contest DoDj as the best wind instruments performer. He is the winner of numerous jazz festivals. He tours the best concert stages of the country and abroad playing in different bands with Sergey Krasheninnikov, Grigoriy Nemirovskiy, Antom Tkachev, Rada Pokarjevskaya, Vladimir Molotkov, Andrey Svirsa, Lutz Krajenski and Herv? Jeanne.
He works in the big band of the Donetsk circus. Since 2007 he works in show-bands of cruise ships, playing with Wojciech Mrozek, Jamie Michael Stewart and Alexander Lyulyakin. Currently he is a participant and the leader of groups Propeller Thrust (jazz band), Animales Ingratos (Latino band), Drill (rock band), White Boat Orchestra(jazz band).