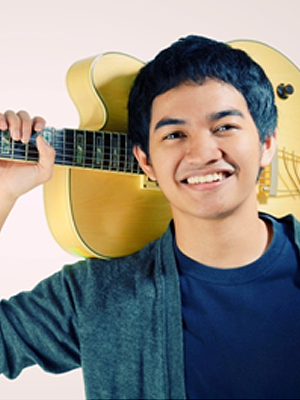 Indonesia, Jakarta
"I'm a jazz guitarist born in Jakarta. I started by learning classical piano and guitar at the age of 9 and stayed digging it until 10 years later, but then decided to switch to jazz because I needed a convenient space where I can unleash my passion in total freedom.
I was raised in 60's-70's styles of rock progressive ranging from Mahavisnu Orchestra, Gentle Giant, ELP all the way to Soft Machine, thanks to my father. This scene made me familiar with complex music which are rich in details. Not only progressive rock, I also familiar with contemporary music from maestros such as Debussy, Bela Bartok and Krzysztof Penderecki that has been influencing me in terms of composing something with odd melodies.
Currently I'm digging traditional/ethnical Indonesian musics, realizing that there are actually many potential from my motherland. I'm doing it by establishing Tesla Manaf ft. Mahagotra Ganesha, resulted one independent album entitled "It's All Yours". Speaking of passion, I'm really into jazz guitar and also composing. I love to convert spoken words into series of notes. In the end, I just want to be a story, a present brought home to everyone who watch me."
Tesla Manaf (guitar, Indonesia)
"I decided to switch to jazz because I needed a convenient space where I can unleash my passion in total freedom."