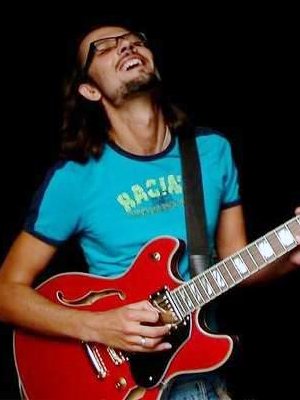 Ukraine, Odessa
Jazz guitarist. In adolescence came to jazz through his interest to rock and "The Beatles" music. Musical education: musical college (Krivoy Rog, Ukraine), Hochshule fur Music "Hans Eisler" (Berlin, Germany), the school of Hariprasad Chaurasia (7 months studied to play bansuri – Indian bamboo flute) in Bhubaneswar, India. Participated in numerous international jazz-festivals: Jazz-Koktebel (Koktebel, Ukraine), Live in Blue Bay (Koktebel, Ukraine), Jazz Carnival in Odessa (Ukraine). Collaborated and performed with Chanda Rule, Ray Brown jr., Ashley Slater, Louis Austin, Vladimir Chekasin and others.
Collaborated with Russian pop-singers (Bogdan Titomir and Leri Vinn) as a member of "Fidel's Children", whose permanent participant he is.
Vitaliy is interested in Indian classical music, plays bansuri (Indian bamboo flute). His devotion to India affects not only his music, but also his lifestyle: he is a vegetarian, doesn't have any pernicious habits.