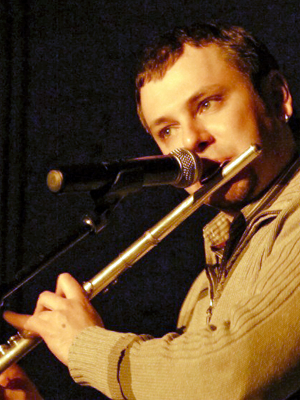 Russia, Moscow
Vladimir Nesterenko is one of the strongest young jazz musicians of Moscow, multi - instrumentalist: a pianist, flutist and practically the only one professional jazz organist in Russia.
He played and toured with Didier Lockwood, Jesse Jones Jr., Zbygnew Namyslowsky, Piotr Wojtasik, Steve Slagle, Miles Griffith, JD Walter, Frank Lacy, Joe Ford, Craig Handy, Ron Afiff, Kim Plainfield, Gregory Porter, Michael Schiefel, Joe Ford, Gerald Haynes, Patience Higgins, Greg Bandy, James Zollar, as well as V. Ponomarev, I. Butman, D. Kramer, G. Lukyanov, V. Chekasin, C. Pron, A. Fisher, A. Oseychuk.
In March 2005 he passed the two-week internship in New School University (New York, USA), during which took part in concerts in New York clubs, including the legendary, Blue Note, performed with such jazz masters as Clark Terry, Jimmy Heath, Kenny Barron.
Since 2003 he has been teaching at the Moscow Institute of Contemporary Art and Gnesin Russian Academy of Music.
Vladimir's creative credo is, on the one hand, the constant search for new, unconventional ideas and music solutions, on the other, the deepest respect to jazz "roots", relying on rich traditions of jazz and classical music.