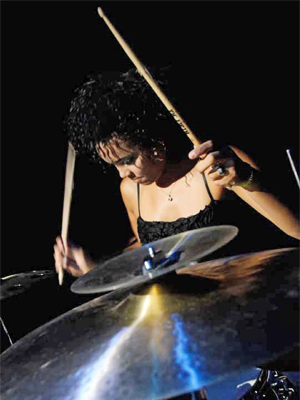 Cuba, Havana
Yissi Garcia at the age of 25 has already become an iconic figure of female percussion in Cuba. Signed by brands like Sabian (cymbals) and LP (Percussion instruments), she decided to launch her solo career as bandleader of a new musical project that follows the routes of Latin jazz, funk and electronic music.
In 2011, she carried out a special performance at the Drummers' Night at the 10th International Fiesta del Tambor Festival. She taught Cuban percussion at the Centro Polivalente Mapess in Angola, and played with the Norwegian band Jumbo in the Luanda Jazz Festival.
She was a member of the women's Salsa band Anacaona, and performed throughout Cuba and the world, including international festivals such as JOJAZZ, Art Jazz Festival, Sunfest, La Nuit de Africa, M?sicas del Mundo and Montreal Jazz Festival, and other prestigious Jazz Festivals of Curacao, Martinique, Trinidad-Tobago, Guadalupe, Barbados, Santa Lucia and Aruba. In Aruba, she had the opportunity to play with saxophonist David Sanborn.
She performed with well-known figures such as Omara Portuondo, Bobby Carcass?s, Joaquin Betancourt, Alexis Bosh, Orlando Sanchez (CubaJazz), Yasek Manzano, Emir Santa Cruz, Interactivo and Roberto Garcia, Horacio "El Negro" Hernandez, Giovanni Hidalgo, Arturo Tappin and Roy Hargrove among others.
Yissi bear great musical heritage from her father and main inspiration, drummer Bernardo Garcia. As a professional musician, her vigorous and lively temperament marks the tempo of a career of continuous growth and personal search, always branded by her biggest passion: jazz.