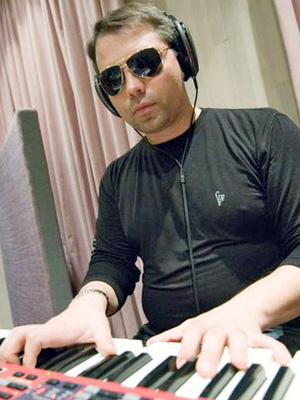 Russia, Moscow
Alexey Samarin is a talented Russian pianist and composer, who takes direct part in Russian jazz music development. In 1997 Alexey formed a funk band «Sool Food». After moving to Moscow the band was renamed into «Alexey Samarin Band». At present the band performs only original songs written by Alexey. In 2002 he recordered an instrumental album «Life in JFC Jazz club» together with his band. The album includes a fine mix of various styles: funk, folk, D&B jazz. «Alexey Samarin Band» took part in the following festivals «PetroJazz», «Usadba Jazz», «Kremlin life» in the Kazan. In 2004 «Alexey Samarin Band» has made a tour of Holland, after that the band has enjoyed the international success.
Alexey Samarin also played in «Belinov blues band» and in the Russian-Canadian project «Jerome Jeffry Blues Band», took part in a number of such projects as « Nochnyie Snaipery», Garik Sukachev, Mara etc. In different times the band consisted of the following performers: guitar players – Alexey Degusarov, Alexey Fedichev (DDT), Roman Miroshnichenko, Fedor Dosumov (A-Studio,"Impact Fuze"); bass guitarists – Vladimir Koltsov-Krutov, Anton Davidyants («Impact Fuze»), Alexey Lyubchik (Zvery, Surganova Orchestra) Linley Marhte (Joe Zawinul syndikate), Andrey Svetlov (Aquarium), Hadrien Feraud (John Mclaughlin); sax players – Andrey Firsov and Sergey Nagorniy, Alexey Popov (Doobop sond); drummers – Daniil Prokopiev (markshaider kunst) and Alexey Denisov, Peter Ivshin, Alexey Kravtsov, Denis Popov (Alco-trio, Bratya Grym), Arthur Gazarov (Leonig Agutin), Paco Sery (Joe Zavinul syndikate, Sixun, Jaco Pastorius band); percussionists – Joel Gonsales and Kirill Ipatov (Markshaider kunst). The concerts (ASB) are always a fascinating and mindbending action.
In 2009 Alexey was invited to the band "Arsenal" as a piano player and a keyboarder by the legend of Russiann jazz Alexey Kozlov. In 2010 "Arsenal" released a new album "Time connection". Recently Alexey has been working with his own projects, cooperating with the world famous jazz-funk players.