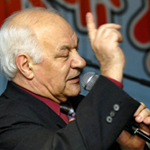 Vladimir Feyertag "Letter pursuit. After the Ball. Several reasons ..."
From the letter to the Organizing committee of the "Master-Jam Fest" by Vladimir Feyertag, the widely known jazz historian, musicologist, jazz critic, the author of the encyclopedia "Jazz. XX century" ("Джаз. ХХ век") and Willis Conover ("The Voice of America") prize winner, Honored Artist of Russia, the first jazz lecturer on the professional stage and the first organizer of jazz festivals in the USSR, professor of St. Petersburg State University of Culture and Arts and the Jury member of the "Master-Jam Fest" First International Festival-Contest of Jazz Improvisation.
"...I caught myself on a thought, that I cannot get off of my mind the event that took place in Odessa. More than a month had passed, but the feeling is as if it just finished yesterday. Good old dramatic theatre on Grecheskaya str. is still standing in front of my eyes, the dark side-scenes, in which I constantly ran into unrecognizable acquaintances, nine-years-old boy from Indonesia at the piano, long table in the middle of the auditorium for the respectful jury. Was it all so long ago? I do not know about the other members of the jury, but I can't forget this feast, although I can't recall it withoutnotes-hints, who was playing, what piece and with whom. I've never had such an experience...

...In order to understand why "Master-Jam" became an extraordinary event for me I began to remember other festivals, including "Odessa Jazz Carnivals". Festivals had always been well or not well composed gala concerts. Each ensemble got its own time and played the music chosen by its members. That is, each group, each band had its conception, had a unique jazz sound, hits, own dramaturgy. And each of the evenings had its headliner. These were the organizers, who did their best to make the highlights being scattered in the afternoons and evenings. And boasted: "And such and such is coming to us. How, didn't you hear? .. This is the strongest man after Coltrane!" Most often all Russian and Ukrainian festivals went on in this way — one star of the world level — and the others. And if we talk about the competitions, the organizing committees were lining up the auditions very strictly in order not to have neither surprises, norglitches. There are three diplomas, it is necessary to find the best three ones contestants, to note, to remember, to present and to go apart eventually.

And what on earth did you made? It doesn't look like festival, there are no programs, no names, and no conceptions. Though, it seems like a contest, but then what kind of a competition it is, if there is almost no such, that one would like to erase from the list of applicants at once. All contestants are playing great. I remember that I, for example, put "excellent" marks to all five trumpeters, then it turned out that all members of the jury put the same marks. And we were deciding for a long time, whom to distinguish. Finally Roberto Garcia was admitted to be the best one, who conquered everyone by incredibly beautiful sound of flugelhorn, improvisational logic and great artistic taste. Yes, if to choose between festival and contest, you held the contest. But the contest of such level, where there was no rearguard.

And here I have a question. How did you manage to zombify the experienced Odessa audience? I understand that the Internet "worked" for you. Well, how many people saw your candidates beforehand, I mean the people who looked in the net first — and then said "I will certainly go"? And what about others, who are accustomed to see the festival program first and then decide if they are going to go this evening, because these particular musicians are playing, or not to go because they are not great fans of such music. And here one should go every evening, there is no program, jazz will be played — this is it! And I suspect that this time audience went not to listen to musicians but to see "the Freidlin's event". I think that Odessa (generally specific, a bit snobbish and all-knowing) fell in love with you, believed in you and was convinced that "it cannot be bad there".

Surprisingly, but this contest of improvisers has become a powerful festivity. And do you know why? Because there wasn't other concept than "Guys, we are playing jam!" And the audience this time went deeply into the quality of improvisations, in structural logic of musicians' thoughts, and wasn't looking for the progress in music, new ideas, brilliant themes and compositions birth. Just jazz standards sounded. It looked like a chess tournament. All the openings are learned and clear for 5-6 movements, but what is happening in middlegame is a riddle. Here, whether you like it or not, qualified participation in the evaluation of improvisational skills starts, to which residents of Odessa were incredibly capable. The public has never been wrong in the assessment of what is happening, and gave a standing ovation to Dane-African American. Does it often happen in Odessa?

We can't imagine, how much jazz injected into the music of twenties century. The famous statement, that the music consists of melody, harmony and rhythm, today only true in reverse: the music consists of rhythm, harmony and melody. In any case, in jazz and in all kinds of non-academic music it's only this way! The rhythm is created by rhythm-group (firstly, drums and bass), then harmonic organization appears, and then melody. Half of the so-called jazz hits are just successfully found rhythmical phrases, agree with me. Remember themes of Hancock, Silver, Powell. Musicians are driven at inventing such "riff-shaped" themes, which, actually creates rhythmic aura of jazz. And melody? It's great when you manage to compose something outstanding, but "Round Midnight", "Take the "A"Train" or "Dolphin Dance" do not appear every day. Sorry for my theorizing, but I want to note that today the world is full of great universal improvisers, ready to fly to the edge of the world to play with new colleagues, and to stand in front of the new listeners. Do you understand, what chance you gave to those who have not yet entered the top ten of the greats, who have not yet got to prestigious festivals or (I admit it) are tired of their own projects and want to dive into the jazz ocean in the other hemisphere despite of circumstances, contracts and other routine work?

You created the draw, you composed such intrigue, perhaps, some of the participants didn't like that. On the stage regularly appeared typical bands — three brass players (trumpet, trombone, saxophone) and a full rhythm section (guitar, drums, piano, bass). And vocalists. And five of such ensembles every day. And they have to play within certain genre restrictions: whether ballad, or standard, or Latin, or funk. Most fortunate were those, who have no competition: a remarkable flutist from Armenia Nelly Manukyan, harmonica performer Boris Plotnikov (Yekaterinburg) and Israeli Wissam Arram, who played the darbuka (a rare instrument in the percussion group). Did you notice that some of the bands played in banal jam way — first all brass musicians for a couple of squares, then the singer, then a group of rhythm, and not forgetting about the drum solo? Theme in the beginning and theme in the end. And in some collaborations leaders were determined instantly, in the second piece it was clear, who's in charge. This is a very interesting psychological phenomenon. Someone plays great, but isn't a leader by the character. Does it happen? It does. And someone is an outstanding leader and takes everything over at once, and he succeeds. In this capacity, I would highlight American saxophonist Jay Rodriguez and Israeli guitarist Meir Ben Michael. It is interesting that the leadership qualities were not shown by singers, although vocalist can not be a sideman by nature. I'm always hypercritical to vocalists...

Both of us know that jazz is a very broad stylistic range, and for sure there were people who reproached organization committee that the modern spontaneous (new improvisational) music was not represented. But I understand how far-sighted you were by stopping only on mainstream. Otherwise the form of the concert would have disappeared, there would be over-improvisational permissiveness, which could not give any chance to the jury to agree on the criteria and the values of expression freedom. So all is correct. There was accessible, understandable to everybody couplet-variational jazz — from bebop to hard-bop and funk. Seemed like the public was allowed to go to the rehearsal, all-knowing Odessits saw jazz lab and were convinced that there are plenty of improvising masters in the world and all of them are interesting to be heard... almost all the participants turned out to be stars.

Both you and I know very well in which way jazz festivals and contests are organized. Agree that we have here so-called "routine" festivals made according to the same patterns each year. And you made unbelievable, you broke norms. And breaking norms always brings an intrigue. And what a show, what a theater can be without intrigue? And moreover, you rehabilitated the concept of "jam".

Do you remember the trembling attitude of Soviet Union musicians and jazz fans towards the jam-sessions? Getting to jam (even with foreign masters) was more important than getting to the concert. We would like to show: here we are, we play well, but you don't know us, you don't invite us. Jam was a small complimentary check into the area of international music-making. Our jazzmen didn't have other opportunity to show themselves to the world. But for 30 years there are no restrictions for traveling, touring, joint projects and jam lost its importance. Why would you play something unprepared, why do you have to prove something, when there is a well-balanced and prepared program? All in all, today jam is not needed for pro musicians at all. On the largest jazz festivals jams are not provided. Sessions are held in New-York, but they are fairs for beginners. It is needed to register beforehand and to be ready to play any standard any moment. Producers, managers come in search of bright talents. They don't always come. But the neophyte musicians exchange business cards with hope that someone will call and offer the job.

I'm grateful to you for the idea. I'm grateful to your friends volunteers for enthusiasm. Odessa deserves something special, I always had such opinion. And your team has done the unbelievable, broke all the norms of festivals and contests, and did it, on the one hand, with due pathos, and cozy on the other hand...

I didn't write official review, not because I didn't want to. But because I couldn't do it officially. That is why I write the letter to you personally in two months after the event... I believe you will be able carry on, and surprise us with unusual talented initiatives again and again.

Your V.B."
Published in "Jazz.Ru" Magazine #51 (#5, 2013) in Russian
Translated into English by V. Chubarev
Vladimir Feyertag page on "Jazz.Ru"